Do more in French
Experience French differently with Fr+! Fr+ is a free platform open to students ages 14-17 that allows you to join online communities based on your interests. You can create, discuss and discover French content that is geared toward your language level. Fr+ is your content and your francophone space on the internet.
Sign up today!
Your interests, passions and hobbies!

Find everything you love in one spot: sports, leisure, travel…, and it's all in French. Read, write, and discuss your favourite subjects with your Fr+ community. Fr+ offers theme-based discussions at your most comfortable language level. If what you're passionate about isn't on the platform, that's not a problem; start a conversation by proposing a new topic.

Content that you enjoy, in French

Discovering new artists, tv shows, movies and books in French has never been so easy. With a variety of content offered based on your interests, you'll always have something new to discover.

Resources to take you further

In the resource section, you'll find language tools to help you further your learning and information about other Francophone youth organizations in your region.
An online space to experience life in French
Whether French is your first, second or fifth language, talk with other students who want to practise their French! Fr+ is a friendly community where everyone can share their ideas, help each other learn French, and progress at their own pace. On this platform, you can look at other people's publications and comment on them for free, submit your own publications on the subjects of your choice, and discuss your favourite topics with other people who have the same interests. Practicing French outside of class has never been so easy and fun.
Content that reflects your interests
On Fr+, you can choose the content you want to see on your feed. There are a variety of themes: music, sports, video games, movies. You can find all the subjects that you love! If one of your interests isn't on Fr+, you can add it by proposing a new topic.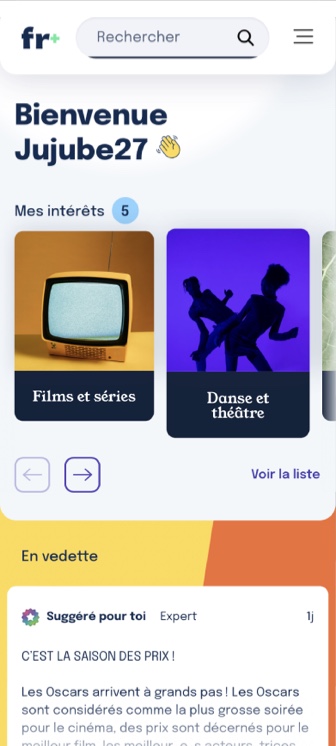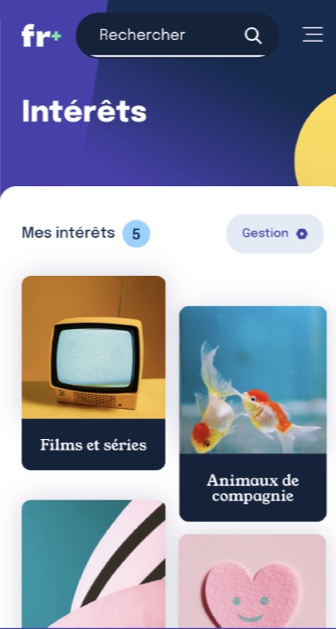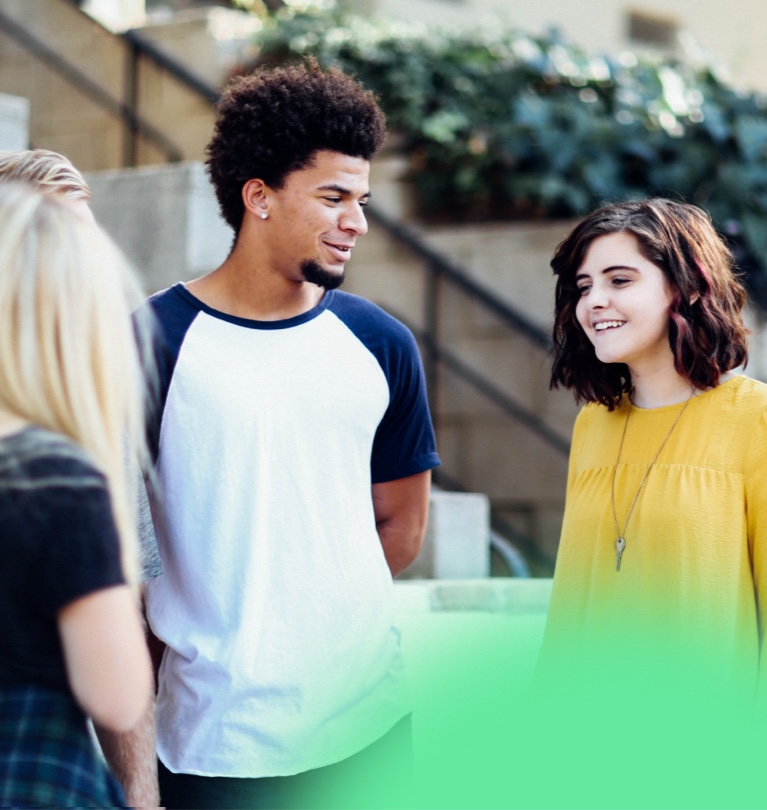 Expand your horizon with our selection of resources
Enrich your French world with the Resource section on the platform. Consult other websites specially designed for students and picked for you by French for the Future. Discover Francophone organizations close to you to complete your Fr+ experience. Your entire Francophone world is now at your fingertips!
Sign up today!
+10pts
+10pts
+10pts
Gagne des badges tout au long de ton expérience sur la plateforme
Accumule des points et gagne des récompenses en étant actif sur Fr+.
Qui n'aime pas les récompenses? En commentant, réagissant et en publiant sur Fr+, tu peux accumuler des points qui te permettent de débloquer des badges spéciaux! Collectionne-les tous et deviens un super-utilisateur sur Fr+! Réussiras-tu à obtenir tous nos badges secrets?
They are part of your community
"It's a great community that allows me to continue practicing French and engaging with others."

"I really appreciate that Fr+ gives me the opportunity to communicate with other people in French. It's a chance I rarely get in my daily life."

"I like Fr+! It's a fun and informative network where I can participate through comments and publications. Fr+ gave me more confidence in my abilities."